Robbin Island Capetown Bay South Africa
Description:
This is a view of the infamous Robbin Island from the lower shore of Capetown Bay, SA.
Please Click On The Picture Links Below For More Information: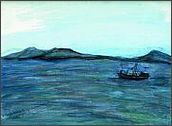 ---
About:
I was reared on a small farm in Iowa and have been drawing and painting since I was five-years old. My portfolio now includes successful photography. I have also published many short stories a few, which can be found in my blog.
My philosophy is simple: Composition, Story, Elegant Line.
'If you find the elegant line, your work will be lyrical.
I produce works in acrylic, watercolor and digital photo format. I also conduct artist-in-residence programs for young people. I completed a Painting Intensive at the San Francisco Art Institute, studying with world renown Israeli artist Larry Abramson and at at the Ox-Bow School of the Art Institute Chicago under Phil Hanson and Michelle Grabner.
I earned my BFA from Drake University in Des Moines, IA. My studies included an emphasis in painting and printmaking. My work is hanging in private collections throughout the United States and Europe. In 2009 I received the Tony Award, a traveling art award honoring individual artists on Fine Art America.
I currently work and reside with my wife, Karen in Parkville, Mo. Both of my sons are accomplished artists.

Parkville, Mo - United States
---